PROUDLY SERVICING THE MARINE INDUSTRY FOR MORE THAN 30 YEARS
Myaree Cranes have a prominent presence within the West Australian Marine Industry with a solid reputation for carrying out a broad spread of lifting applications. If you need your boat or yacht lifted, or if you need your engine removed, you're in safe hands. For more than 30 years, we've been working with boat owners throughout Perth.
Having serviced the marine industry for over 30 years, Myaree Crane Hire have mobile cranes which are able to assist you. 
We can bring any of our Franna or Tadano Cranes to any of the following marinas and yacht clubs around the metro area on a weekly basis:
Aquarama
East Fremantle Yacht Club
Flying Squadron Yacht Club
Fremantle Sailing Club
Northport Marine
Royal Perth Yacht Club Perth
South of Perth Yacht Club
Swan Yacht Club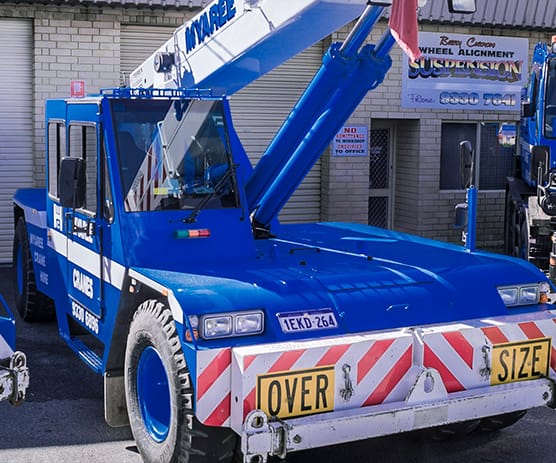 MYAREE CRANE HIRE FOR MARINE SERVICING
We have experience both removing and stepping masts on your yacht whether it's in or out of the water. We can remove and replace motors, gearboxes, and gensets from pleasure boats which typically involves working in spaces with extremely tight access.
We also routinely help to service commercial fishing vessels and we work with a range of marine mechanical companies. 
Storm damage recovery work is a specialty here at Myaree Crane Hire so if things go wrong at sea, we've got your back. Recently, we provided the Fremantle Sailing Club with such recovery work after some intense bouts of bad weather.
If your boat's engine needs work or replacement, we've got you covered there, too. 
We lift engines for replacement and refitting in nearly all types of boats, from power boats and cray boats to yachts and ferries.
Perhaps our proudest achievement in the recent past is our involvement with the construction of the Duyfken, a replica of the ship recognised as the first European vessel to hit the shores of Australia back in 1606. We still play a key role in the ongoing maintenance of this ship. We also maintain the Leeuwin. In both instances, our slewing cranes are tailor-made for removing and replacing masts.
When it comes to crane hire in Perth, boats are by no means the only big toys we can lift here at Myaree. From helicopters and trains to plane engines, if it's heavy and bulky, chances are we've helped one of our thousands of satisfied customers lift it.
While it might seem a colossal task, here at Myaree Crane Hire, lifting and launching boats or yachts is something we take in stride on a daily basis.
If you need your sailing boat lifted over marina barriers, we'll make sure the load is calculated precisely, and then, with the correct slings in place, she'll be gently lifted up and over into the water.
How about if you want your boat launched via a slipway? As you know, this will place significantly less strain on the hull, and we'll help you out here as well.
We take a highly personalised approach to all marine lifting projects, so whatever your requirements, get in touch with our team to start the ball rolling. 
Let us know your problem and we'll deliver a robust solution that won't have you panicking about either crane hire rates or an inexperienced team handling your pride and joy. 
Instead, let our highly accomplished and fully-credentialed team get things done quickly and easily using some of the best cranes in Perth.
Myaree's crane hire rates are among the most competitive you'll find due to our ability to scale without sacrificing quality.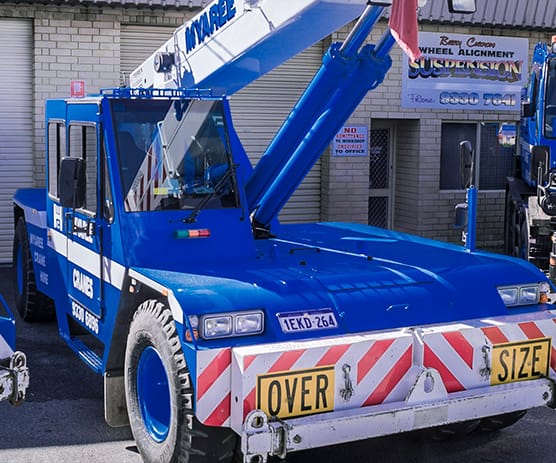 Why Choose Myaree Crane Hire
Established all the way back in 1984, Myaree Crane Hire Services has a wealth of experience across the board with a particular focus on the marine industry. There's a good reason you see our name in all the best marinas across Perth and beyond.
With Franna cranes, Tom Thumb cranes, and a range of much larger slewing cranes, there's hardly anything too bulky for us to deal with. When a single crane won't cut it, we simply send more than one. Since dual lifting demands care and careful calculation before a stroke of work is done, you need a company like Myaree Crane Hire that won't come steaming in without proper planning. For us, it's a point of pride to get the job done to the highest standard the first time round.
Experience and a versatile fleet are not enough. You can rest assured that all our drivers are fully licenced for high-risk work and that everything we do is carried out in full compliance with Australian regulations.  You can sit back and relax as your precious yacht is lifted up and into the water.
All you need to do is get in touch and let Myaree Crane Hire do the rest.  Give us a call and we can discuss crane hire costs as well as the specifics of the job.  We know how much time and effort goes into maintaining a boat, so we'll care for your marine craft as though it were our own!