About Myaree Crane Hire Perth
Myaree Crane Hire is a second-generation family business established in 1984.  We pride ourselves on offering affordable and effective lifting solutions across multiple industries and sectors.
Our family-run firm first ventured into the crane rental business with a simple 6-Ton JEC and an 8-Ton BHB tractor crane.  While both of these cranes have long since been retired from duty, they formed an integral part of Myaree Cranes history.
From humble beginnings, we have grown from being a small, family-run business to one of Perth's leading crane hire companies, now offering a fleet of 10 cranes.
We're happy to provide you with a lift assessment, and you can choose from the following cranes in our fleet:
15T, 20T, and 25T Frannas
12T and 16T city cranes (Tom Thumbs)
12-16T and a 55T Demag All Terrain slewing crane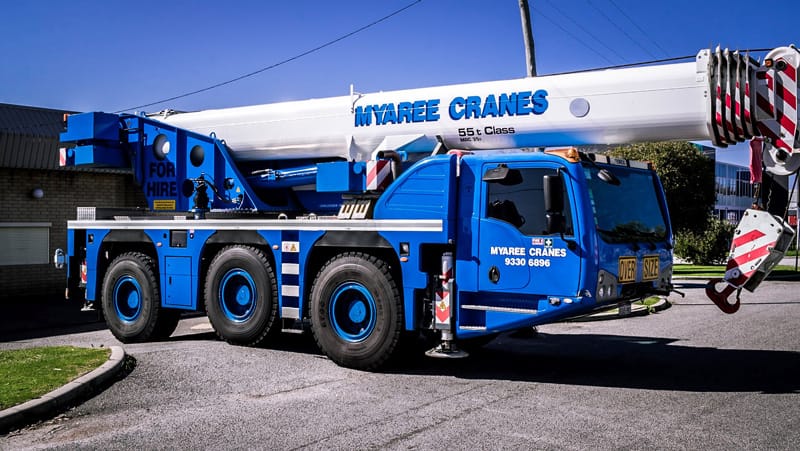 Myaree Crane Hire Perth is still family-owned and family-run.
With our greatly improved fleet, we can cater to your lifting needs more fully. Our expansion allows us to give you a broader spread of lifting options with even more competitive prices.
This gives you all the benefits of dealing with one of the most established crane hire companies in Perth while also enjoying the advantages of a family firm who care about far more than the bottom line. Despite our growth, here at Myaree Crane Hire, we're still grounded on a simple company ethos:
"WE ONLY DO THE JOB ONCE BECAUSE WE DO IT THE RIGHT WAY... THE FIRST TIME ROUND"
If you want a safe and professional crane hire in Perth in full compliance with 1996 OHSE regulations, get in touch today for a lifting assessment. We'll analyse your needs and present you with the most cost-effective and efficient solution.
Here are the areas in which we've played a significant role over the past three decades:
Residential Sector
Whether you need bulky furniture lifted onto your balcony since you can't get it upstairs or a pizza oven, spa or swimming pool dropped into your back yard, we've helped countless happy homeowners shift awkward loads at keen prices
Commercial Sector
Most businesses have plenty of heavy and unwieldy inventory. From desks and filing cabinets to more specialized equipment, if it's too big for you to handle, it won't be too much for Myaree Crane Hire Perth
Industrial Sector
If you're producing goods, at some point you'll need to lift them. We've got experience meeting all your industrial needs, so you don't need to invest in your own cranes. If you need machines removed or installed in larger industrial factories, here at Myaree, we have the extensive knowledge and experience to get the job done, quickly, seamlessly, and affordably. For smaller, cramped workshops, we'll use one of the smaller Franna cranes from our fleet, while we can commission skates when required
Construction Sector
Visit any construction site in Perth and you'll see regular lifting on a daily basis. From bundles of timber and packs of bricks through to structural steel erection and laminated beams, there's no shortage of heavy loads on site, and we'll be only too happy to lift them for you. We'll put your flooring and roofing supplies, prefabricated walls, and AC units in place so you can focus on the creative side of building
Marine Industry
Myaree Cranes have a sterling, hard-won reputation for excellence serving the marine industry. We'll remove and step the masts on your yacht, whether in or out of the water. If you've got a pleasure boat moored somewhere with awkward access, we can remove or replace gensets, gearboxes and motors 
in situ
. We're also storm damage recovery specialists. We service commercial fishing vessels for many marine mechanical companies and at most major yacht clubs and marinas in the Perth Metropolitan area. Myaree Crane Hire was also involved with the construction of the Duyfken and still helps maintain this vessel, as well as removing and replacing masts on The Leeuwin. It's safe to say we're marine specialists. If the project you have in mind needs some extra firepower, we've got plenty of extra artillery!
Extra Lifting Gear
Spreader Bars: These come supplied on the Frannas and 55T Demag
Pigs Ears: 6T each, there are left & right and straight ears (gunnabo lifters)
Skates
Swift Lifts: 1.3T, 2.4T, 5T & 10T for concrete panel, tank and lid lifting
Credentials
Since its inception, Myaree Crane Hire has been a member of the 
Chamber of Commerce & Industry (CCI)
 and we're fully industry compliant for your peace of mind. Since its establishment, the company has also been a member of the 
Crane Association of WA (CAWA)
. This organization has been responsible for many improved conditions in the Western Australian Crane Industry. In 2009, Myaree Cranes became a member of the 
Crane Industry Council of Australia (CICA)
. This national body strives for improved crane conditions and standards across the board throughout Australia. In recent years, CAWA has amalgamated with CICA. As a member, Myaree Crane Hire follows the 
CICA Member Code of Conduct
. To remain OHS-compliant, all cranes are inspected annually for the
 CICA CraneSafe 
green sticker, a requirement on many sites in Perth.
Why choose myaree crane hire
Myaree Crane Hire has become a key presence in the Perth construction industry since we started in 1984. If you aggregate our experience across all elements of crane lifting, it tops out at more than 200 years.

You'll get all the advantages of dealing with a sizeable company along with the personal touch so often missing. Since we have diverse and extensive experience with both residential and commercial projects, you can get all your heavy lifting done for far less than you might imagine.
Along with first-class results every time, you can also rest secure knowing the job will be carried out in accordance with OHSE regulations 1996. All of our operators have High Risk Work Licenses, allowing them to work throughout Australia on all aspects of crane operation.
Here at Myaree Cranes, our team fosters enduring relationships with our clients, as evidenced by all the yacht clubs we service on an ongoing basis. We deliver even in the most challenging circumstances, always with a smile. We're not here for a quick buck, but rather to help you in the long-term. That said, we're happy to oblige if you have a one-off project.
If you're looking at crane hire companies in Perth, get in touch today and let us know how we can help you.