Machinery and Gensets Relocation
If it needs relocating, we'll move it!
At Myaree Crane Hire, we've been moving and relocating machinery, generators, boat engines for more than 30 years.
If you have a large commercial or industrial factory with heavy machinery that needs relocation, we'll take care of it.
With a well planned lift assessment, combined with over 30 years of crane hire experience, Myaree Crane Hire will execute any heavy lift with precision in any location, even those locations where access is extremely restricted.
According to the specifications of the load, we can dispatch single or multiple cranes.
Mobile crane hire in Perth is an area where we excel, and no job is too challenging for the passionate Myaree Crane Hire team.
As with everything we do here, we're equally comfortable with an extensive project like shifting an entire factory or moving a single heavy load.
You can feel confident in our skilled team, which will be on hand to give you all the lifting assistance you need while you focus on the bigger picture.
Do not risk your capital or project budget overruns with dry crane hire.
You're far better off to go for wet hire so you can rely on our trained and highly skilled crane operators, rather than pressuring one of your team to try their hand at the job.
Despite the fact that we have a proven track record across multiple sectors and industries, our crane hire rates are hard to beat. You get a double-win if you choose Myaree Crane Hire for any machinery, diesel generator, or electric engine relocation.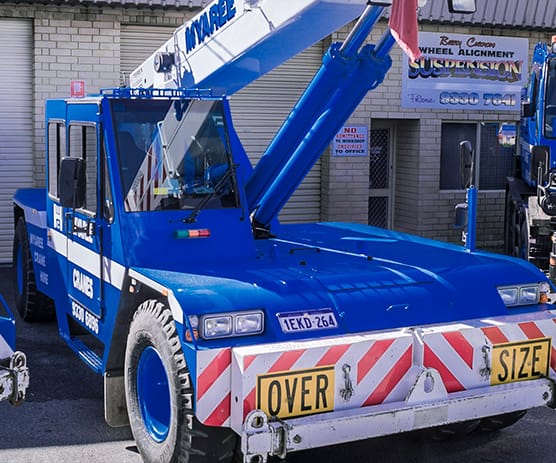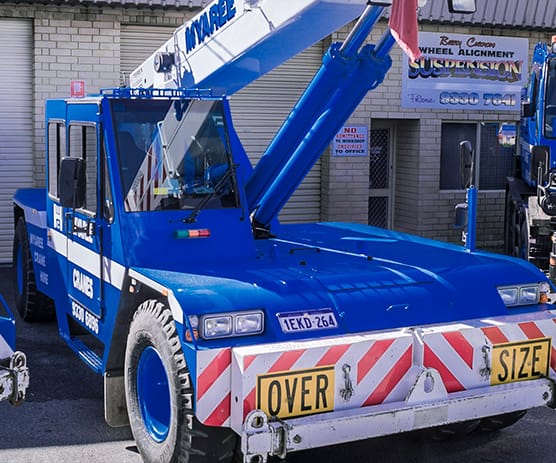 Why Choose Myaree Crane Hire
If you need heavy machinery moved, you need a company big enough to provide the equipment to match. At Myaree Crane Hire, our fleet of Ten Mobile Cranes consisting of Slewing Cranes, City Cranes (commonly known as Tom Thumbs) and Franna Cranes, means we can cope with the heaviest loads. We also have cranes mobile and nimble enough to cope with a tight or confined workshop.
With a full 30 years of experience, we've assembled a team of professional, friendly and highly skilled crane operators, married with an efficient administration team, poised to shift swimming pools, furniture, factory machinery, even plane engines. Whether you need mobile or Franna crane hire, there's no project we consider too ambitious, just like no job is too small.
While we excel in terms of expertise and machinery, we don't forget the importance of that personal touch, either. If you're looking to establish an ongoing working relationship with one of the best crane hire companies in Perth, look no further. Myaree Crane Hire. Call Now 08 9330 6896.